Ninjas in Pyjamas and Team Gullit announce TG.NIP
Date:

9 December 2021

Read time:

1 min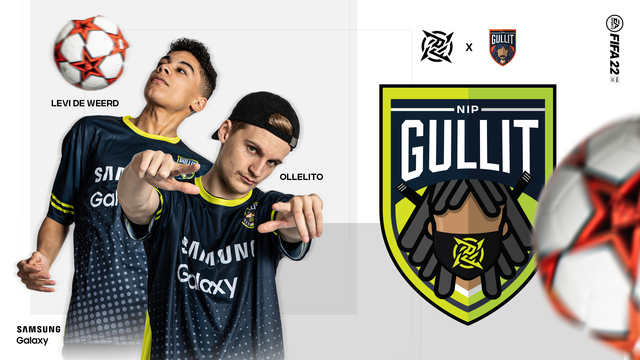 STOCKHOLM/AMSTERDAM – Swedish legendary esports organization Ninjas in Pyjamas (NIP) and Team Gullit, the world's first FIFA academy, today announced the creation of TG.NIP — a new FIFA team that will compete in the FIFA Global Series. The roster features two-time European Champion Levi de Weerd and FUT Champions Cup winner Olle 'Ollelito' Arbin.
With the creation of TG.NIP, NIP and Team Gullit guarantee themselves a spot in the FGS Masters program. The program consists of 16 pre-selected teams who commit to the FGS circuit throughout the season starting with the Team of the Season Cup in April, as well as to producing content throughout the year for all our FIFA fans.
''We are really excited to partner with NIP,'' said Team Gullit Founder, Corné Dubelaar. ''We have been working together for almost two years now, ever since Ollelito made the transfer from Team Gullit to NIP. When EA announced the FGS Masters program, it was time to take the co-operation to the next level. The creation of TG.NIP allows us to fully focus on developing talent in the Team Gullit academy while having TG.NIP as one of the top-tier teams fighting for trophies in the major tournaments. By pairing Levi and Olle, we have one of the best rosters in the competitive FIFA scene.''
"We go way back with Team Gullit, having first gotten in touch with them when we were signing Olle. Now that FIFA esports is professionalizing, I'm stoked to be deepening our cooperation in response and joining the FGS together, and I expect this relationship to get even closer over time. It's a natural strategic move for us, with NIP alongside our subsidiary Shinobi working towards a very broad FIFA presence." says Jonas Gundersen, COO at NIP.