---
Which EA Sports FC 24 Edition do you choose?
Date:

14 August 2023

Read time:

3 min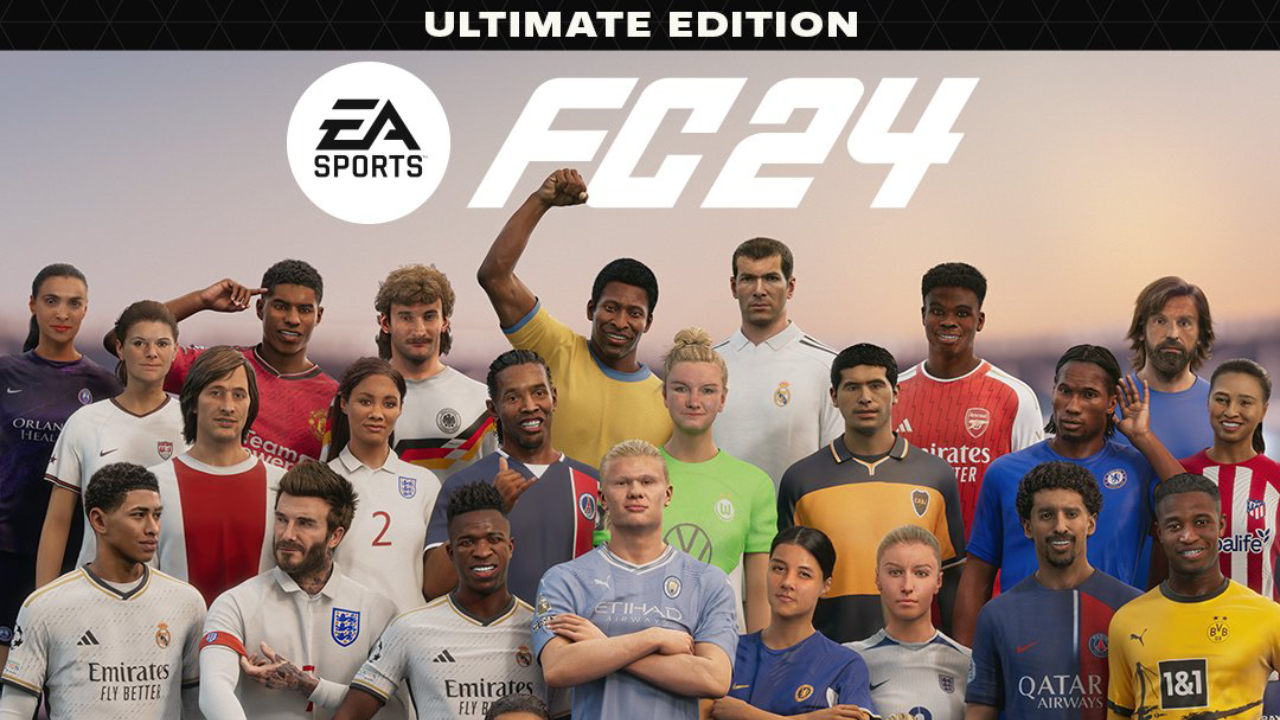 EA Sports has officially announced the new football game, EA Sports FC 24 (FIFA 24). Although the release is imminent, fans can already pre-order several EA Sports FC 24 (FIFA 24) editions such as the Standard edition and the Ultimate edition. We will explain everything to you so that you can make an informed choice.
True to tradition, developer EA Sports offers multiple EA Sports FC editions. Like last year, there are two EA Sports FC 24 editions available. These are the Ultimate Edition and the Standard Edition. Both versions of the popular soccer game have their advantages, cover art and price tag. The versions are equivalent in content.
EA Sports FC 24 (FIFA 24) Standard Edition
The EA Sports FC 24 Standard Edition is the basic version of the new football game. If you pre-order this version, you will receive the game on the day of its release, and you can enjoy all the new features and updated game modes within EA Sports FC. In addition, you simultaneously receive the following bonuses:
Ultimate Team Cover Star Loan Player Item for 10 Ultimate Team Matches

Two Ambassador Loan Player Pick Items for 5 Ultimate Team Matches

Dual Entitlement For PlayStation & Xbox (Means your PlayStation 4 and Xbox One versions be upgrade-able to the PlayStation 5 and Xbox Series X/S version)

Additional Player Personality Points in Player Career, 5 Star Coaches Available for Hire in Manager Career, and Unlocked Playstyles Slots in Clubs.
Fans can purchase the EA Sports FC Standard Edition for various platforms. These are the PlayStation 4, PlayStation 5, Xbox One, Xbox Series X/S, Nintendo Switch, and PC (Windows).
EA Sports FC 24 (FIFA 24) Ultimate Edition
For gaming football fans who want that little extra, there is the EA Sports FC 24 Ultimate Edition. This version of the football game is identical in content to the Standard Edition. The difference, however, is in the bonuses you receive with a pre-order or regular purchase. Here are all the extras:
Up to 7 Days of Early Access

4600 FC (FIFA) Points

One Team of the Week 1-player

Nike Ultimate Team Campaign Loan Player Item for 24 Ultimate Team Matches

Accessto Nike Ultimate Team Campaign & a Nike x EA Sports FC Ultimate Team Kit

All other bonuses that the Standard Edition gets, including dual entitlement
One extra in-game pre-order bonus
In addition to the above bonuses, fans who pre-order FIFA 23 Ultimate Edition in-game before August 22 will receive some nice extras: One untradeable UCL/UWCL Hero in Ultimate Team on the 27th of November.
You can order in-game by starting FIFA 23 and pressing the 'pre-order EA Sports FC 24' widget. You will be taken to the store. There you can place your order using a payment method of your choice. If you pre-order through FIFA 23 you can also get a 10% discount. This 10% discount also works through EA Play, but is not stackable anymore like previous years for a total of 20%. The discount only counts if you pre-order the Ultimate Edition.
EA Play Early Access in EA Sports FC 24
Since the EA Sports FC 24 Ultimate Edition gives players a 7 day head start, we expect the benefit of 10 hours of Early Access play through EA Play will not give players any extra benefit. In FIFA 23, the 10 hours started at the same time as early access, meaning purchasing the Ultimate Edition is the best choice for EA Sports FC/FIFA fanatics.
What is the best choice?
It's entirely up to you what the best EA Sports FC 24 edition is. Do you play FIFA every day, and are you a real FIFA fanatic? Then purchasing the EA Sports FC 24 Ultimate Edition is worth considering. Even if you expect to switch to the current generation of consoles shortly, you should buy the Ultimate Edition.
However, in terms of content its not optimal. All features, game modes and seasonal content are identical in both editions. Do you already have a PlayStation 5, Xbox Series X/S or a PC and don't care about the bonuses? Then the standard version will also suffice. Even if you have no plans to switch consoles, you should opt for the cheaper version.
More information about EA Sports FC
You may want more information about EA Sports FC before purchasing the game. The formula of the football game remains unchanged as in previous years. However, you can find all the new features in EA Sports FC 24 on our website.
Another key factor into having a great start in EA Sports FC is the EA Sports FC 24 Web App & Companion App, which allows you to open packs and assemble your team on the go on iOS, Android, And Windows.