---
The Most Overpowered Pass In FIFA 22
Date:

31 January 2022

Read time:

4 min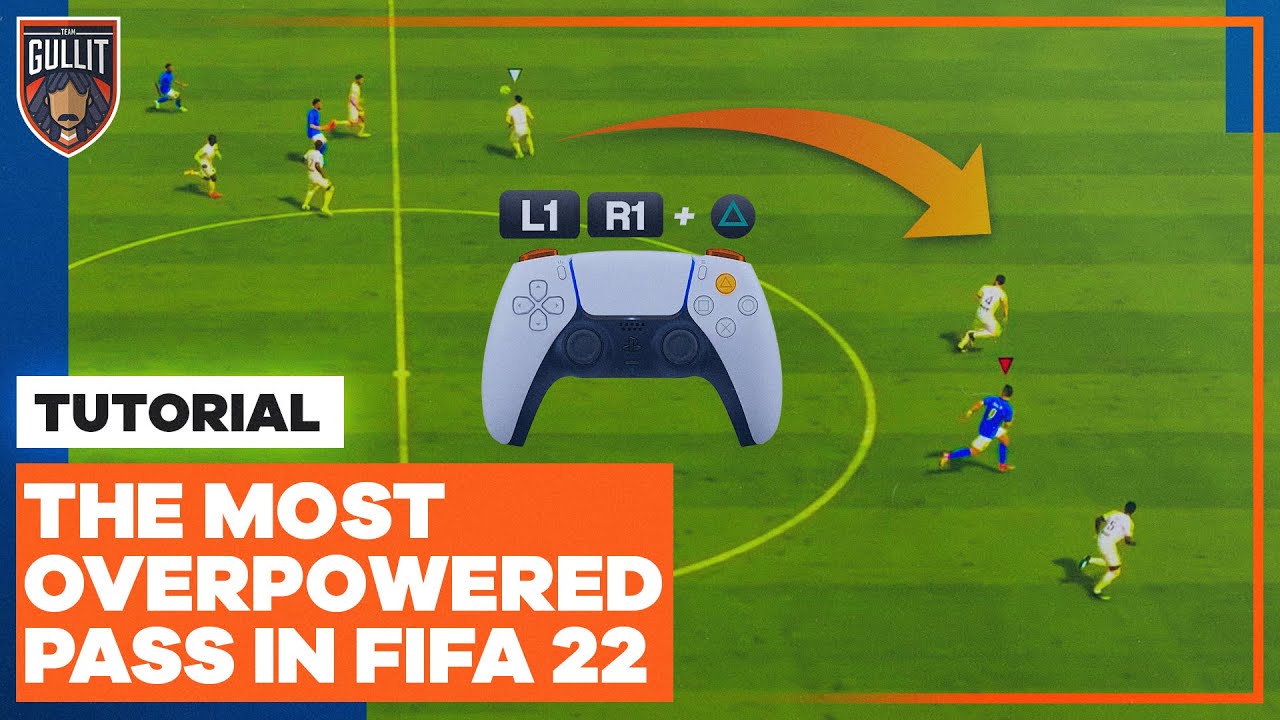 The Most Overpowered Pass in FIFA 22
In this article, we'll help you take your FIFA 22 gameplay to the next level using the very strong long-through ball.
We're not exaggerating when we say the long through ball in FIFA 22 is damn good. We've said it before but we'll say it again because this technique will make a difference for you. Let's dive right into it!
How does it work?
So what is the long-through ball exactly? It is a pass that you can utilize by pressing LB/L1, RB/R1, and Y/triangle at the same time. But you don't want to use it at all times, because your players must be running first. Press LB/L1 to let your players make a run. The ideal moment to play the long through ball is when your striker or whomever else is making the run, is in between the defenders. Then you'll use LB/L1, RB/R1, and Y/triangle to play the pass. The amount of power you put into the pass is extremely important. Two and a half to three bars in most situations, though almost four bars worth of power, is also sometimes necessary to pull off this pass.
Why is it so good?
When executed perfectly, a long through ball can split the defense and put in a player one on one with the opponent's keeper instantly. A good long through ball should land on the attacker's body or just in front of him to not lose any pace at all. If you have a tall striker, they can also control the ball to hold it up and wait for the rest of the team to move up the pitch.
The thing about the long through ball, arguably the most overpowered pass in FIFA 22, is that defenders can't stop it. A right-back using this pass to bypass the opponent's defense may put a right-winger into a dangerous situation where there is lots of space to run into.
The difference between the LB/L1 and RB/R1 long through ball and the double tap LB/L1 through ball, is that the long through ball covers a much bigger distance. That also means you won't want to use it all the time, as a defense splitting pass over a shorter distance is more likely to be pulled off correctly when using the double tap LB/L1 pass.
If you're going to use this pass, start by practicing with players that are lightning quick and with fullbacks and midfielders that have a good long pass on them. Consider players like Trent Alexander-Arnold to play the pass. Strikers like Ronaldo and Lukaku are perfect to be on the receiving end since they have the most important attributes for it: pace to run after the ball, and the height and strength to go up against the defenders to control the ball and hold it up if necessary.
Try it out using the right players, and we can promise your results on the pitch will get better instantly. Good luck!
Learn from the pro's
As with a lot of things in life, some things are easier said than done. If you want to become a better FIFA player, you'll want to learn from the best. At Team Gullit, we have decided to compile the knowledge of our trainers and players into a Team Gullit FIFA course. We cover all of the important skills and know-how in FIFA 22, including Skill Moves, Crossing, and Finishing. 
Each topic is thoroughly discussed and explained by one of our coaches. Feel free to focus on the lessons that you feel you need to improve the most on. Obviously, we recommend doing the full course, as we feel each topic is equally as important. The course consists of a total of 25 lessons, each accompanied by a video. These lessons take between four to seven minutes each, however, practice takes time. So make sure to check out every lesson multiple times if necessary.
As a FIFA Academy, we believe that everyone should be able to enjoy FIFA lessons from the best. That is why we kept our course affordable, at 20 euros. For that price, you'll get the full course without any limitations. Need to up your FIFA game? Well, we've got you covered! 
Questions? Feel free to send us an email or contact us through our social media accounts. And make sure to check out our players this year in several of the biggest FIFA competitions.
Looking for more tutorials?!
We have got you covered. We create educational videos on our YouTube channel and have created the following tutorials on our website: