---
Everything about EA Sports FC 24 cross-play
Date:

3 August 2023

Read time:

4 min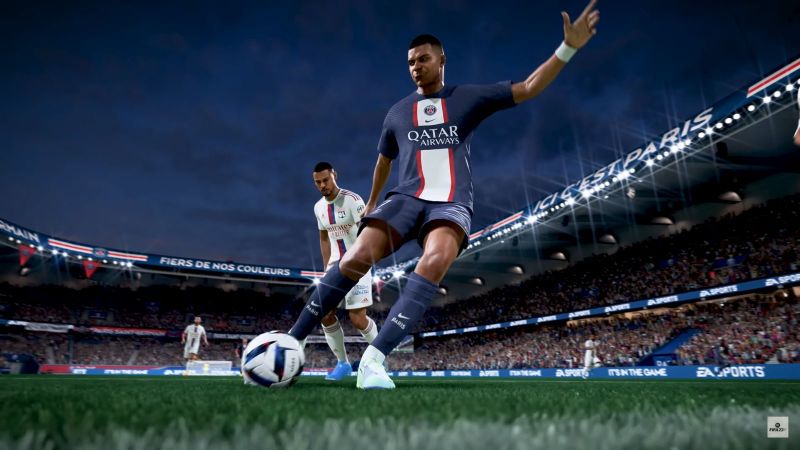 EA Sports FC 24 cross-platform allows players to play against each other on different platforms. EA Sports' new football game thus fulfills the wish of all players. However, certain modes do not work in EA FC 24 cross-play. We are going to tell you everything you need to know.
In 2023 cross-play functions can no longer be ignored in the gaming world. Cross-play allows playing with gamers of all platforms on one server. This feature brings people together, whether they are behind a PC or one of the consoles. The cross-play function did not exist before FIFA 23, but with FIFA 23 cross-play, this changed. 
That FIFA 23 has cross-play didn't come as a surprise. EA Sports tested the popular feature in FIFA 22. This year, EA Sports FC 24 cross-play functions in even more game modes than before.
How does EA FC 24 cross-play work?
EA Sports FC 24 cross-play lets you play with and against other players on different platforms of the same generation. This means that someone with a PlayStation 4 can play together with someone with an Xbox One. And, the PlayStation 5, Xbox Series X/S, and PC are seen as one generation. Switch is excluded, so Nintendo Switch players can only play against each other.
Cross-play is available for the game mode Online Friendlies, Fut Play A Friend, Fut Online Friendlies, Online Seasons, FUT Rivals, FUT Champions, and FUT Online Draft like in FIFA 23. However, it is available in even more modes in EA Sports FC 24: Pro Clubs, Co-Op Season, VOLTA Football (Arcade and Squads), and Ultimate Team Co-Op (Squad Battles, Rivals, and Friendlies).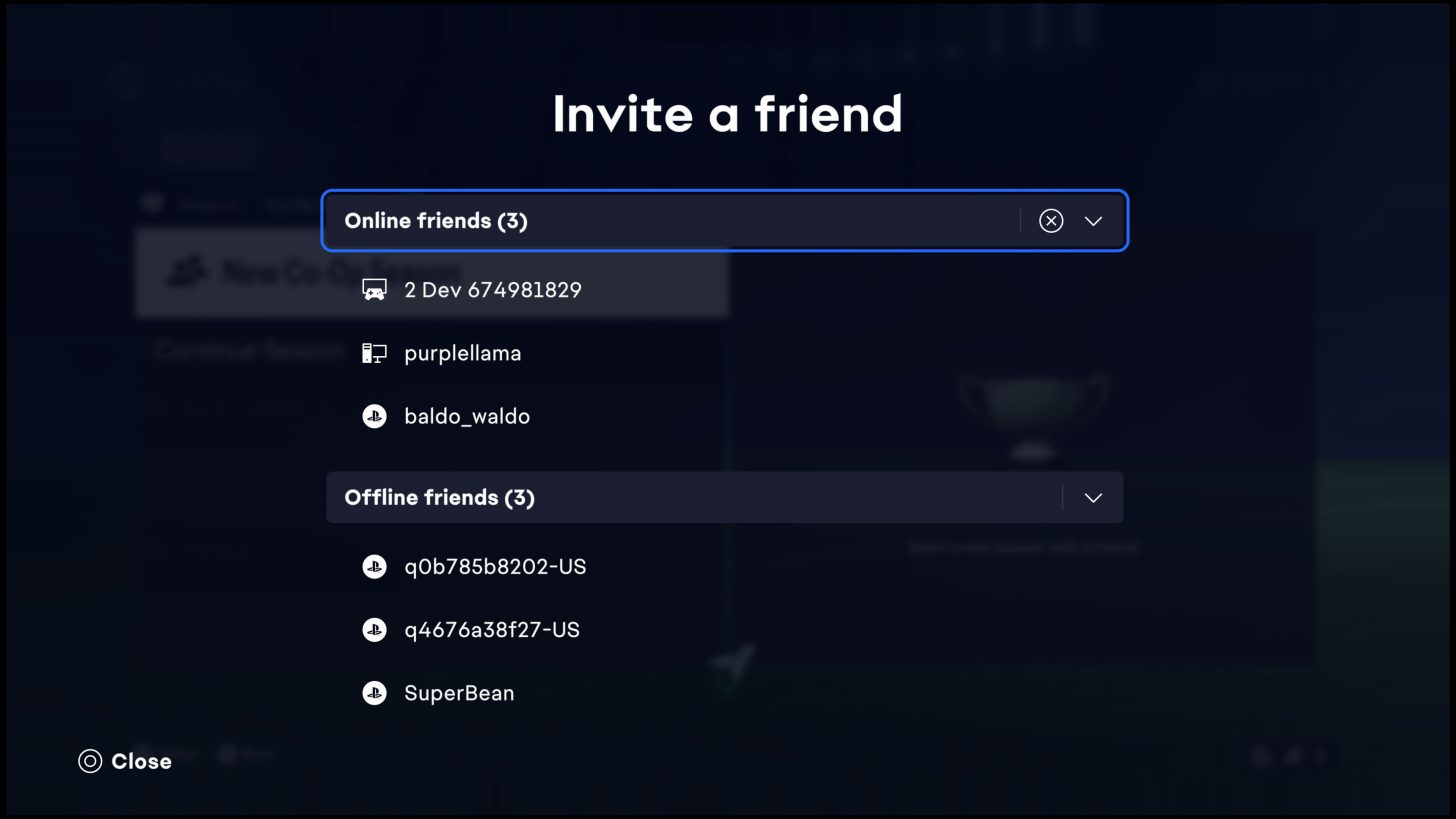 The community's biggest letdown last year is the lack of Pro Clubs in cross-play. It is refreshing to see EA Sports has addressed this concern and added Pro Clubs to the list of cross platform eligibility.
How do I use EA FC 24 cross-play?
Cross-play is enabled by default for everyone playing EA Sports FC 24 for the first time. You can, however, turn it off in the customize menu, then online settings and click on matchmaking options. You can select or deselect the 'Opt-in to cross play' based on your preference.
FC 24 cross-play: EA Social widget
With the new EA Social widget, everyone can search for players, add them to your party, and ignore or decline invites. You will find the widget at the bottom right on the main menu. In EA Social, you see the subcategories friends, game invites, friend requests, player search, and recently met.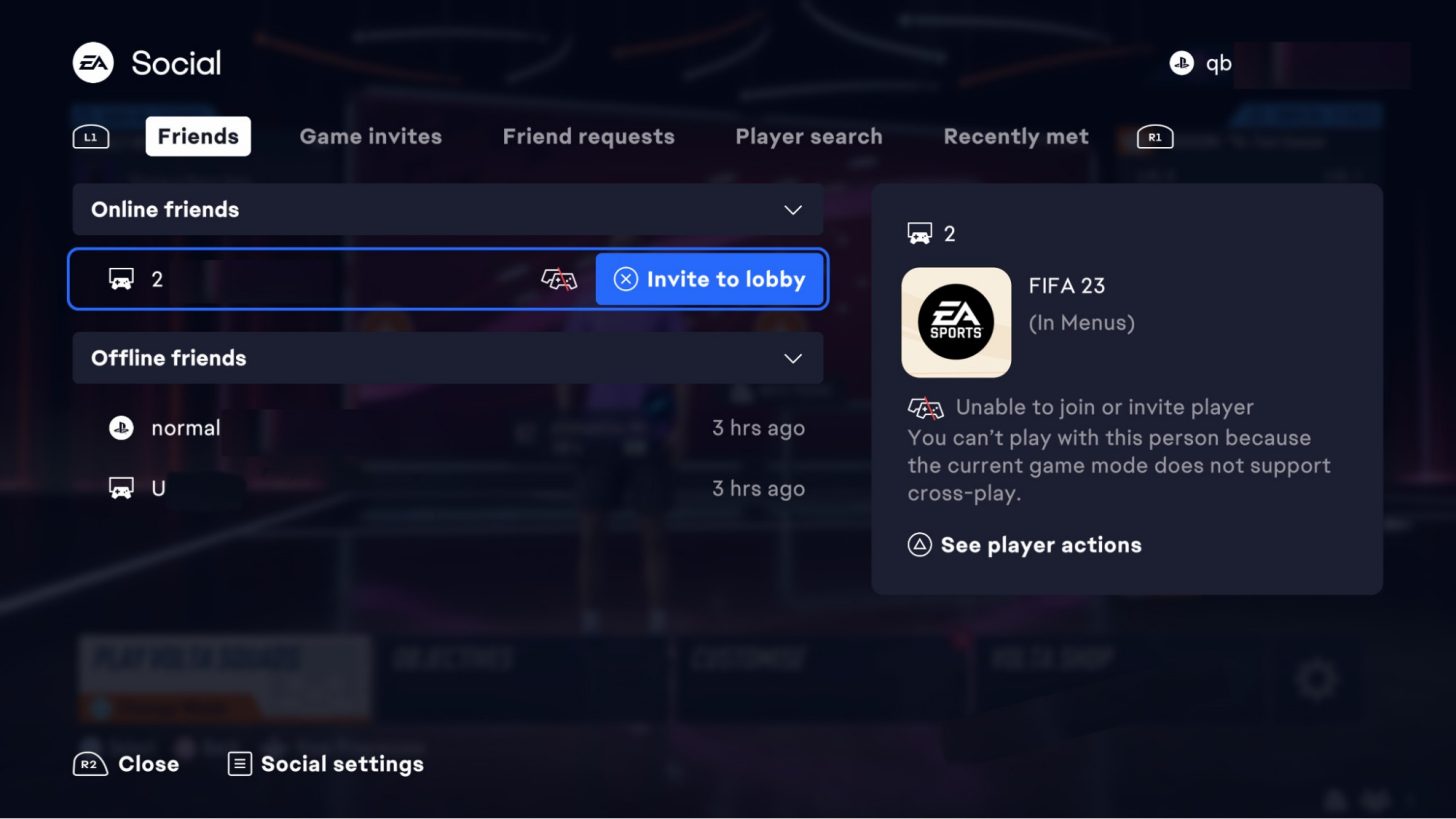 In the friend menu, you can see which friends are online. From this point, it is possible to invite these friends to one of the game modes. You can also remove, block, and mute friends.
In the game invites menu, you see which invites you recently received. You get a pop-up message with every invite. You can accept these invites with one click. Comparable with the game invites menu, you can see which friend request you received in the friend's requests menu.
With player search, you can search for friends. You enter their EA ID or platform ID in the search bar. If done correctly, these people's names appear, and you can send a friend request. 
Finally, did you meet someone in EA Sports FC 24 that you would like to play with or against again? Then you can find these players under 'recently met'. There you will find the players you have recently encountered. 
FUT transfer market: mostly shared
The FUT transfer market is mainly being merged after the addition of cross-play. PlayStation 4, PlayStation 5, Xbox One, and Xbox Series X/S will have one joint transfer market if we follow what happened in FIFA 23. PC and Nintendo Switch both get different transfer markets, which raised a lot of questions from the community. Namely, the markets are much worse for the PC and Nintendo due to higher prices and fewer players. At this point, however, EA Sports has not addressed the fact, so we will have to wait and see.
EA FC 24 Cross-play and hackers
Within several other games, cross-play features have a terrible reputation when it comes to hackers. After all, it is easier for PC players to use cheating software. EA Sports is aware of this and is trying to sideline hackers with EA anti-cheat. Reports of hackers in cross-play from FIFA 23 have been minimal, so it looks like the anti-cheat has done the job.
More EA Sports FC 24
Interested in more EA Sports FC 24 content? Then read our guides on all the new features in EA Sports FC 24, the EA Sports FC 24 Ultimate Team 101, and our overview of the EA Sports FC 24 editions.